When you're at the grocery store, do you choose paper or plastic? Or do you bring your reusable bags? If you chose plastic, then you probably didn't realize that your bag might harm marine life when it ends up in the ocean (or even before then). Here are the ways that plastic bags harm marine life.
Nature as we know it has its way of renewing itself: a natural ecosystem operates on a cycle of renewal. plants
and animals grow, die, and become food for the next generation. Ecosystems do not allow substances that cannot be broken down. Our wonder material has spread from the urban environment to everywhere in the natural world from the deepest point of the Mariana trench to the summit of Mount Everest.
Our addiction to single-use plastics
With words like pollution, environmental damage, and climate change gradually becoming a normal part of our lives, more and more of us are becoming aware of the repercussions of our environment. Though we tend to overlook the unseen effects, the seemingly innocent yet equally malevolent thing we consume daily is slowly ruining the planet.
Single-use plastics, or disposable plastics, are used only once before they are thrown away and include items such as straws, plastic bags, water bottles, coffee cups, stirrers, and food packaging. People around the world have become so addicted to these plastics that their demand for them has become significant. Ultimately, it has become a global environmental problem. Cheap to make and easy to find, plastics are dangerous for our oceans and marine life, for the most part ending up in landfills or our waterways. Once in the ocean, plastics break down into tiny pieces called microplastics that can be ingested by marine life such as fish and birds. These particles offer no nutrition, so marine life becomes malnourished and weaker. Because many fish end up on our dinner plates as a result of their microplastic-eating habits, seafood is one way that we unintentionally ingest the particles.
What are single-use plastics?
Single-use plastics are any sort of disposable packaging meant to be used once and then thrown away. Often made from petroleum, they include grocery bags, drink bottles, straws, plates, and utensils. These items may seem small in isolation but are incredibly common. There are five billion plastic bags used around the world every day—roughly one million per minute! When not properly disposed of these items can get into oceans and other bodies of water where they break down into smaller pieces. Eventually, some marine animals end up ingesting them or mistaking them for food.
Plastics never break down, they simply get smaller
The effects of plastic bottles on marine life are being felt in both open oceans and deep seawater. The same is true for plastic bags, which are polluting our oceans, killing thousands of animals, and harming coral reefs. This is due to a chemical reaction that takes place inside baggies called photo-degradation (when light interacts with plastics). This process occurs when UV rays interact with plastics to create what are known as Polar Organic Chemical Ions (POCI), which then dissolve into tiny drops of liquid and disperse into nearby waters. POCIs are toxic to animals, even in small amounts. Even worse, POCIs can travel long distances in ocean currents – meaning that they could be affecting marine life all over the world.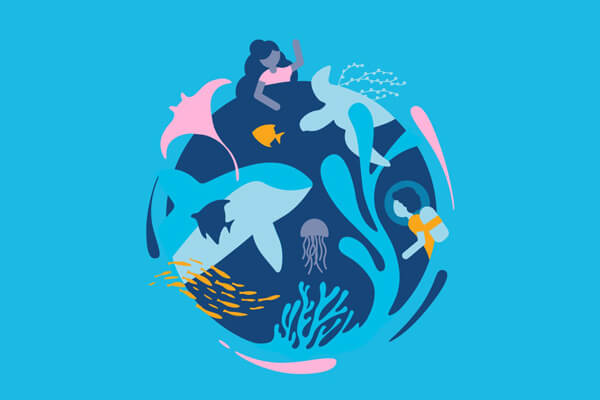 Where do we find them?
Not only do plastic bags frequently make their way into our waterways, but they often end up in our oceans—creating a huge problem for marine life. Over 1 million sea animals are killed annually by ingesting or becoming entangled in plastic debris, like bags and bottles. And while you might think those large marine animals are safe from those little plastic bags, you'd be wrong. Dolphins and whales—which feed on smaller fish—are particularly at risk. A whale that washed ashore off Thailand had 32 pounds of plastics in its stomach (including over 100 pieces of a plastic bag).
When did this start?
Most people think plastic bags have been around forever, but actually, they're a fairly recent invention. The first bag was patented in 1965 and was made out of paper and cellulose film. It wasn't until years later that plastic bags became popular when researchers discovered that storing non-food products in plastic is more effective than using containers like cardboard boxes or glass jars. But it wasn't until decades later that scientists started to notice how bad these bags were for marine life. Today there are over 5 trillion pieces of trash floating in our oceans – 80% of which is plastic. Most disposable bags are made out of a type of polyethylene that never fully degrades – so all those discarded bags will stay in our oceans forever!
The impact they have on our water systems and oceans
Every year, more than 15 million tons of plastic make their way into our oceans. This has several adverse effects on marine life and ecosystems in general, including direct harm to animals. Most people know that trash like plastic bags and bottles can hurt birds and other wildlife, but they might not realize how profoundly they affect aquatic life as well. The next time you're packing your groceries in plastic bags or throwing out a plastic bottle, think about all those fish who will eventually ingest them—and then try to find an alternative for yourself.
Humans are at risk too
Although plastic is made from oil and is non-biodegradable, it doesn't matter what happens to plastic in our lifetime. The effects that humans are having on oceanic life don't stop at our shorelines. Even though we can live without sea turtles and other marine life, those animals will never be able to live without us. That's why humans need to understand that any effect that we have on aquatic life will inevitably come back and hurt us too.
Let's take action
It's important to remember that all those little pieces of plastic in bottles and wrappers don't just wash up on our shores by accident. It's estimated that 5 trillion pieces of plastic float around out there. Just imagine a small city made entirely out of plastic—that's what we're dealing with here. In case you're thinking we have time to sit around and wait for someone else to fix these problems, consider what we know about fish: they can't evolve as quickly as their environment is changing; at least two-thirds are already gone. If we want to save them, then it's up to us humans to stop polluting our oceans and start making better choices.