If you're looking to visit Singapore, then you've come to the right place! While the country has plenty of popular tourist destinations such as Gardens by the Bay and Sentosa Island, there are plenty of places that might be a little off the beaten path but are worth visiting as well. In this guide on 10 Can't-miss spots in Singapore, we'll cover everything from famous landmarks to hidden gems, so that you have something new to look forward to at every turn when you visit this stunning city-state in Southeast Asia.
Singapore has more to offer than being a rich man's playground; there's plenty of character in this city for tourists of all levels of curiosity to explore. Despite the air of luxury and economic wealth in places like top-of-the-line malls and expensive hotels, Singapore remains laid back with a culturally rich history and deep history to boot.
1) Universal Studios
Universal Studios Singapore is the first amusement park of its kind in Southeast Asia. Boasting more than 20 themed zones that include Ancient Egypt, New York, Lost World, Hollywood, Far Far Away, and Madagascar, it also features interactive rides, water rides, and roller coasters that'll leave you in awe. There are five unique, towering 'Duelling' roller coasters, the world's tallest of their kind.
2) Changi Chapel and Museum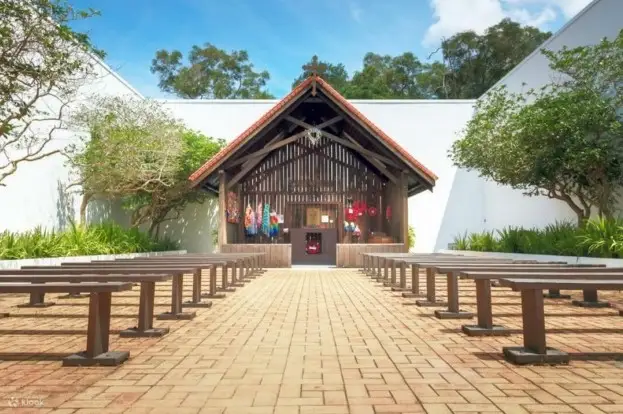 Head to the Changi Chapel to view a concise exposition of World War II and its aftermath in Singapore, when Japan governed the country and a brutal campaign was conducted against more than 50,000 civilians and prisoners in Changi Prison. As a memorial to those who never lost hope, the Changi Chapel was erected, featuring paintings by Bombardier Stanley Warren depicting the horrors better than words can.
3) Little India
Little India is a Hindu cultural district. The bustling area is filled with Indian restaurants, shops, and colorful sari-clad people. It's one of the city's top tourist destinations for food lovers, as well as those looking to pick up beautiful silk and spices. To make sure you see it all (and taste it all), walk around Park Street—it's the main road lined with stalls selling savory Indian treats like chicken biryani, samosas, and rasgullas (creamy balls of deliciousness). For a great view of Little India's many colors, head to Tekka Centre.
4) Chinatown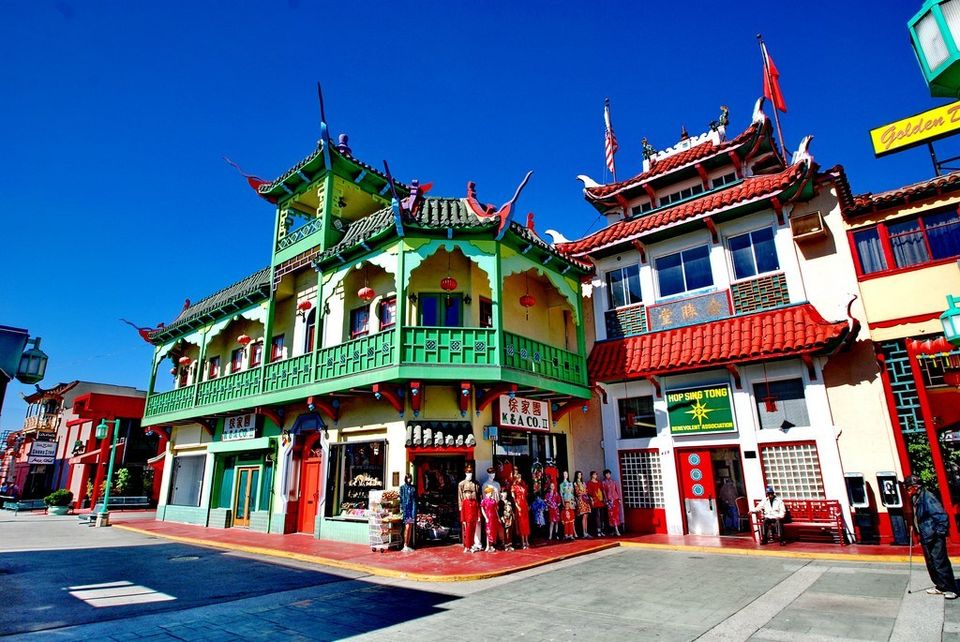 With its historic temples, colorful food stalls, and late-night shopping, Chinatown is a must for any visitor to Singapore. Best of all, it's easily accessible on foot from many popular hotels and restaurants. During festivals such as Chinese New Year, look out for lions and dragon dances. Chinatown is also home to Raffles City Shopping Center—the largest air-conditioned indoor shopping mall in Southeast Asia. If you love traditional Chinese medicine and want to experience what ancient China was like, then make sure you stop by Gui Zhong Tang Herbal Apothecary shop. This shop has been around since 1820, with generations of master herbalists passing down their knowledge and skills through generations.
5)

Singapore Flyer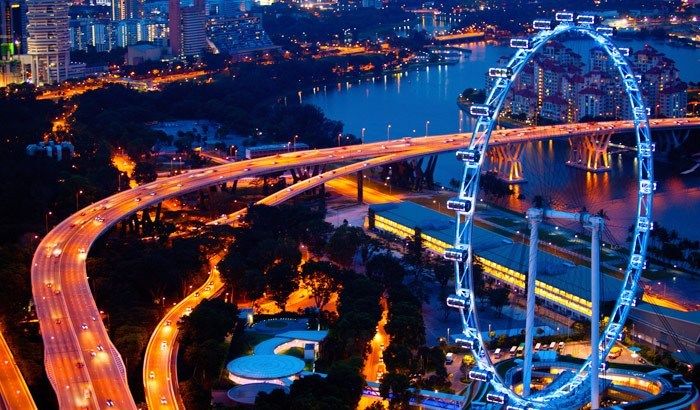 Fancy taking tea and enjoying a bird's eye view of the world while feeling luxurious? A trip on the Singapore Flyer (World's Largest Observation Wheel) might be what you're looking for. Not only can you enjoy views of Singapore's skyline and Malaysia's Straits of Johor, but also the beautiful spice islands of Indonesia with a trip on the Flyer. There are several ticket packages available to fit your specific needs. each package includes entry to the Journey of Dreams multimedia exhibit, which takes you through Singapore's history and the inspiration behind the Flyer.
6) Marina Bay Sands Sky Park
Whether it's a big game or just a romantic date, Sky Park's amazing views of Marina Bay and beyond offer an unforgettable backdrop. Don't forget to try one of their signature cocktails while you're there! Viewing Tower at Gardens by the Bay: From here, you can get sweeping panoramic views of all six gardens at the Gardens by the Bay. The site is a great place to stop for a picnic during your visit (just leave your wine bottle at home). It also has multiple food stalls that feature different cuisines from around Asia.
7) Gardens by the Bay
While housing one of the world's most unique gardens, Asia's first vertical garden (the Cloud Forest), and several works of art like Supertrees, Gardens by The Bay is also a popular attraction for tourists. With plenty of activities to do throughout its vast space, there are also food trucks and restaurants scattered throughout—so you can start your day at UOB Plaza near The Flower Dome with a healthy green juice and end it with noodles at Hawker Center. There are many different ways to explore Gardens by The Bay: head over on your own or visit it as part of a scheduled tour. Either way, it will be an experience you won't soon forget.
8) Sentosa Island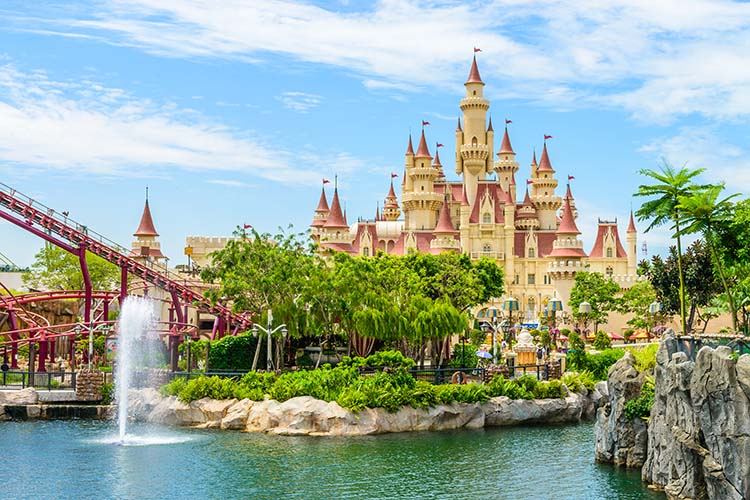 Sentosa Island is home to a handful of incredible things to do. A weekend visit won't leave you with enough time to see everything, but here are a few places that should be high on your list. Long Beach sits at one end of Siloso Beach and consists of 15 kilometers (9 miles) of pristine beachfront with great views out over the waters. You can also find some swanky restaurants, great for dinner after a hard day relaxing on a sun lounger; or spend some time trying it all out with Jet Ski and parasailing tours, which will allow you to take in those views from higher up.
9) Jurong Bird Park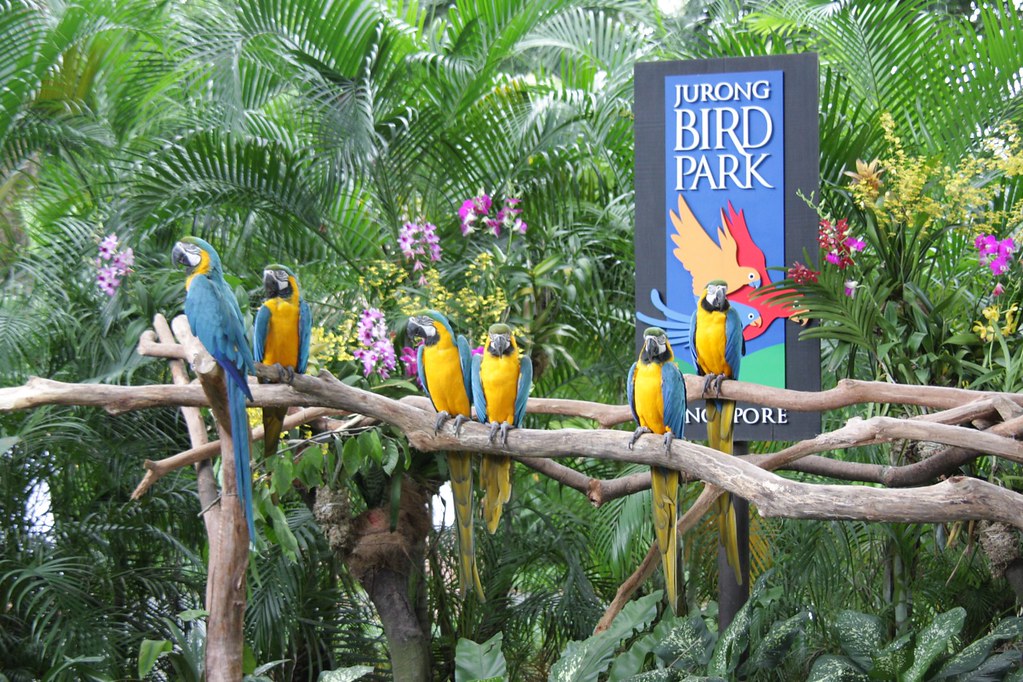 For those looking to spend a day at an exciting park, Jurong Bird Park is a great option. Located along both sides of Jurong Lake, it's home to thousands of birds and offers plenty of photo opportunities for its visitors. Whether you enjoy strolling around parks or taking pictures with animals, Jurong Bird Park has plenty to offer tourists looking for family fun activities.
10) Haw Par Villa
Haw Par Villa is a unique theme park and historical site that's worth visiting if you have time to spare. Located right in central Singapore, Haw Par Villa is filled with hundreds of dioramas depicting Chinese folklore and history. These dioramas are some of Haw Par Villa's biggest attractions—the Lion Dance Garden recreates a Chinese New Year festival, while another area depicts a battle between mythological creatures. Along with these great exhibits, Haw Par Villa also offers nature trails for those who want to explore more of what Singapore has to offer outside of city limits. While planning your trip to Singapore, make sure to pencil in a visit to Haw Par Villa for something different and fun!