Most of the world's top 100 museums and galleries are visited by tourists, and that makes sense – these cultural centers reflect a city's zeitgeist, community, and history. Our past is reflected in them as well as the city we live in.
It is a must to visit the Louvre in Paris, and the Uffizi in Florence, but today there are museums and galleries for everyone's taste. From wine museums where you can sample a delicious tipple to modern art galleries where you can view stunning works of art, visit some of the world's most fascinating museums and galleries.
La Cité du Vin, Bordeaux (France)
Bordeaux's decanter-shaped wine museum is itself a work of art. If this compels you to think about what to expect inside, do not get your hopes up. On the eight-floor monument to wine, you can learn about our fascination with wine and how it became a necessity thousands of years ago. Witness how quickly the wine-making tradition traveled from the Caucasus highlands to the Mediterranean region and beyond.
Learn about some of Europe's most celebrated winemaking families, who have made their fortunes in the craft and earned their place in history.
From this strong base of knowledge, you can use it in one of the museum's tasting rooms or the wine shop that stocks more than 800 wines. And don't forget to enjoy the 360-degree views of the city and the river Garonne from the top floor of the museum. From here, you can catch a glimpse of the vineyards on the hills of Saint-Émilion, which can be reached by car in no time.
Biomuseo, Panama City (Florida)
Standing at Biomuseo's entrance, people might think they have entered a haphazard art project with no meaning and purpose. But most of the things Gehry has ever created have a significant meaning and impact. This is a museum situated on a part of Panama City where the United States military used to be stationed. It serves as a good reminder of Panama's natural resources.
Not to be confused with rooms lined with art, visitors to the attraction will instead find themselves immersed in living gardens. Eight gardens include the Garden of Survival and the Garden of Evolution. The museum frames nature as art, a thing of beauty worth cherishing, and science enthusiasts will feel at home there.
Now that we are all increasingly facing the need to make more sustainable choices, museums like Biomuseo play an increasingly important role in educating us about the natural world.
Museo Nazionale del Cinema, Turin (Italy)
One of the art forms most universally enjoyed is cinema. Towering over the ancient Italian city of Turin, the lavish Mole Antonelliana building was once a synagogue. It is today home to the Museo Nazionale del Cinema, a foundation devoted to the study, research, and documentation of cinema and photography.
Located on five floors and covering 3,200 square meters, the museum is devoted to cinema and is home to all kinds of curious objects, including zoetrope film devices and film memorabilia. A collection of original props and costumes includes costumes from Jaws, The Empire Strikes Back, and Aliens, as well as Marilyn Monroe's jewelry.
Several film festivals are held each year at the museum, and there is an on-site cinema that recalls Hollywood's Golden Age
The National Gallery, London (UK)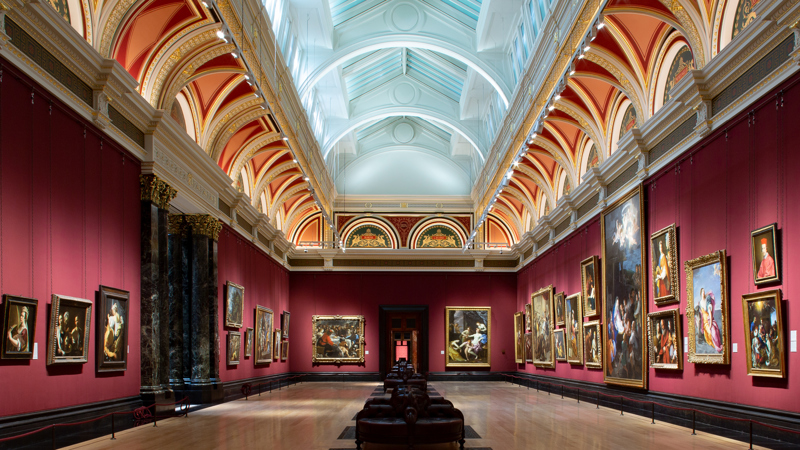 There's more than 700 years of art in the museum. Museums are a wonderful place for those who love art, or simply those who want to see beautiful things. Over 2,300 masterpieces are on display at the gallery, including Van Eyck's Arnolfini Portrait, Turner's The Fighting Temeraire and Vermeer's Lady Standing at a Virginal. The Rijksmuseum is also one of the few places in the world where you can see Van Gogh's Sunflowers, painted during his anguished final years in Arles, in the south of France.
Among other pieces, from Impressionist pieces to contemporary greats, you will find different styles from different time periods at the Art Institute. After you've viewed the artwork, room after room will be a visual delight. For anyone who struggles to differentiate between a Manet and a Monet, the National Gallery provides daily guided tours of the museum's highlights. Being so close to London is because of the Gallery's prime location in Trafalgar Square.
Museo Nacional Centro de Arte Reina Sofía, Madrid (Spain)
In addition to Madrid's famous Golden Triangle of Art, with the Museo Del Prado and Thyssen-Bornemisza Museum, visitors should check out the Museo Nacional Centro de Arte Reina Sofía. Formerly a hospital, this museum hosts sublime Spanish artwork, including paintings by Pablo Picasso and Joan Miró.
The crowning glory of the Reina Sofía is Pablo Picasso's Guernica, which illustrates the German bombing of the Basque village of Guernica. This awe-inspiring, solemn painting is one of the most intense pieces of anti-war art ever.
You can also explore rooms containing pieces by Surrealist master Salvador Dal* that will challenge your imagination, as well as come face-to-face with masterpieces from the Avant-gardes.