Are you tired of wearing the same boring nail color every day? If so, consider switching to pastel nail ideas instead! To keep your nails looking picture-perfect, you need to know what kind of nail art to wear. Nail art is just as much about the personality of the person wearing it as it is about the painter herself. These designs are fun, flirty, and a unique way to stand out in the crowd or on social media. This season's hottest fashion trends are all about pastels, and even if you're not in-trend, they're just so pretty that they might inspire you to pick up a new look as well. Here are ten of our favorite pastel nail ideas that will freshen up your look!
Pastel Swirls     
This pink and white on the nails with a peach backdrop is going to look good, so you might as well choose. Whether it's with neutrals or florals, these pretty polishes are what every girl should own at least once in her life. Every day we hear about how bright colors help people express themselves better and it's true for nail polish too. A pale shade can say so much about your inner self even when you don't want it to.
Pastel Heart Tips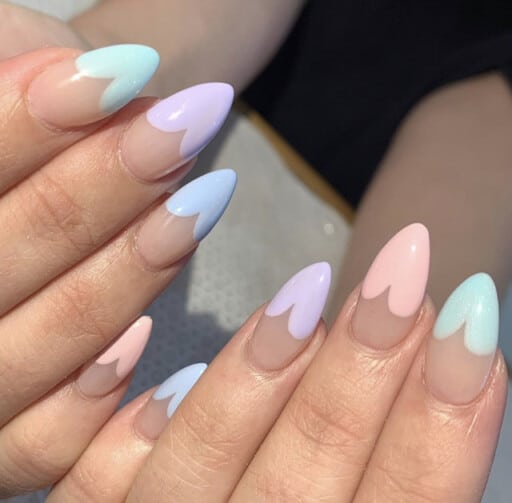 The word to keep in mind for the pastel purple shade is the heart. Draw on the shape with a thin striping brush. Then, add two small vertical lines at either end of your nail and fill them in. You can also add a little bit of glitter or shimmer to make it more exciting. This design looks best when paired with an equally light pink or yellow base color, and it's super easy to do!
Arched Diagonals      
If you only want a light touch of color on your nails, instead of putting on one coat of it, paint them in arched diagonal strokes. Here, you can see how arched diagonals, negative space, and metallic gold accents create an eye-catching manicure. To create this nail look, you'll first want to apply two coats of your lightest color on all nails except for your pinky. Next, you'll apply one coat of your darker shade on each nail and run an angled brush along each side of your nail to create crisp lines between colors. For a polished look, use a top coat after finishing your design and let it dry before showing off.
Pastel Neon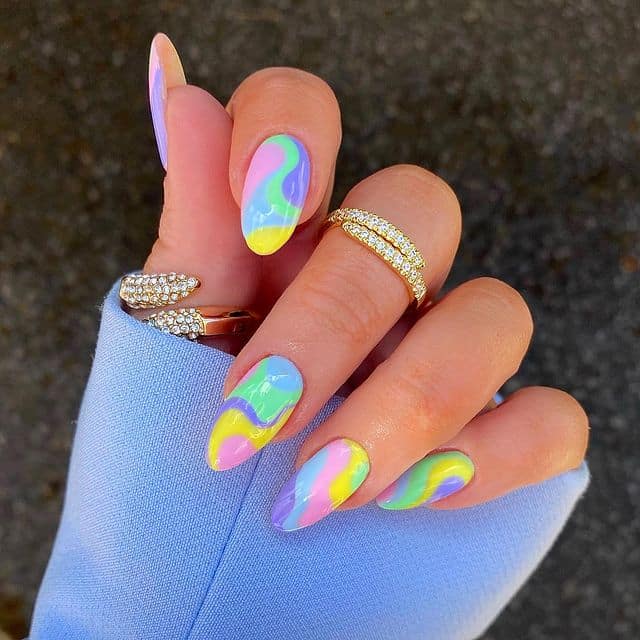 Some would see pastel and neon as opposites, but it's possible to find pastel neon colors. For example, a soft pink shade with a hint of neon yellow is an interesting combination that can be achieved with nail polish. It might sound strange at first, but combining these two opposite hues will give your nails a fresh look that you won't want to hide away! To achieve such a look, use light pink nail polish and add some neon yellow color on top of it. You can also try different shades of pastel for more fun combinations.
Tutti Frutti Nails
As summer drags on, Tutti Frutti nails are a common manicure trend and pastel nail polish will likely feature prominently. Due to the level of detail that these intricate nails need, they may be more appropriate for professional assistance. Another option is to do the imperfect swirls, as this will still result in a patterned iced look. Just be sure to clean up any lines with an angled nail file so your mani looks tidy from all angles. With just three colors (white, pink, and mint green), you can create dozens of fun nail designs! For example, try painting each nail in a different color or go for monochromatic shades by layering two colors on top of each other. As far as how many coats go into your design? You can do as many as you like!
Bright Pastels
The trouble with experimenting with pastels is that most people are afraid to wear them, so if you want to wear them, do it on your nails! A colorful paint palette that swaps bright neons and dark shades for softer hues while still feeling updated and trendy. For those who want to change it up, but not enough to commit, you can paint one nail at a time or just a half of your fingers with a single hue.
Pastel Mismatch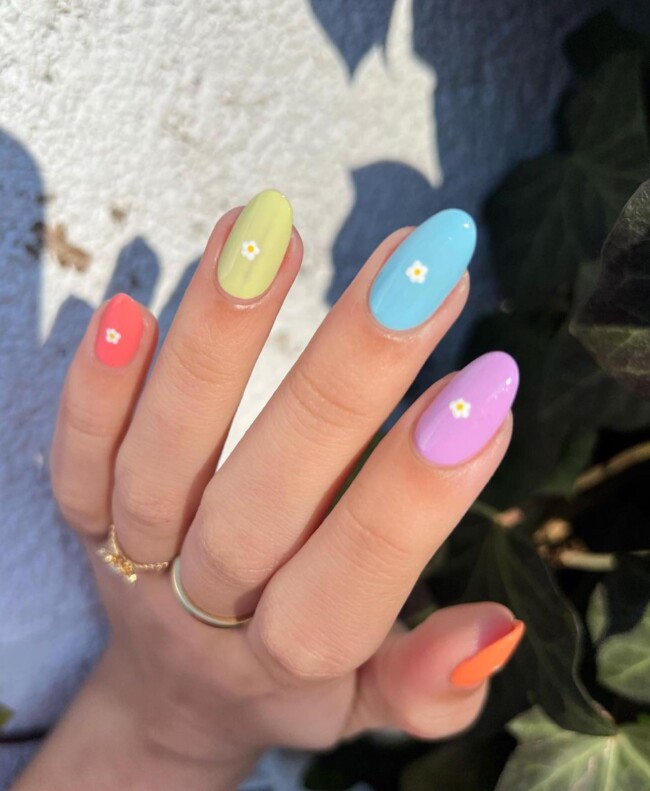 Struggling to choose between different types of nail art? Let this mismatched design be your inspiration. The pink and mint shades compliment each other beautifully, but don't worry if you can't find two matching colors—the result will still look gorgeous! If you're not a fan of neon colors, then opt for pastels instead. It's a great way to add some color to your look without going overboard. You could even use matte or metallic polishes for a more elegant effect.
Pastel Dots
To get this nail art idea, first, apply a clear polish or nude base to your nails. Using a dotting tool, apply a different color of pastel polish to each nail. You must not forget a layer of top coat to seal the design in. It is best to wait until all layers have dried before applying another coat of topcoat. It is also advisable to do a test run on your non-dominant hand just so you know how long it will take and if any mistakes need correcting.
Pastel Stiletto Nails
Here's a summer pastel nail look for those on the warmer side of the color spectrum.
Start with a white base, which will allow your colors to pop and stay brighter for longer. You can also use a tinted base if you'd like. There are tons of pretty pastels in this new collection of OPI nail polishes, so don't be afraid to pick up two or three different colors for layering. I used and to make my pastel nails but you can experiment with any color combos that strike your fancy!
Pastel Gradient Nails
Simply put, these pastel gradient nails are stunning. Additionally, they will give you plenty of opportunities to show off-color. You can try different pastel colors and combine them to create different looks. Just make sure that you use matching colors and don't end up with pink, green, blue, and yellow nails. Instead, stick with one or two colors. As a general rule of thumb, keep it simple when first trying out new nail designs until you get comfortable working with them.