Amusement parks are some of the most popular tourist destinations around the world, and they are a great way to get that adrenaline pumping during your summer vacation. With so many amusement parks to choose from, however, it can be hard to decide which park to visit. Don't sweat it! Here's our list of 10 can't-miss amusement parks from around the world to help you plan your trip accordingly.
1) Tokyo DisneySea (Tokyo, Japan)
Many Disney Park enthusiasts say that they feel Tokyo Disney Resort should be visited by everyone who has an interest in Disney Parks. Although the three parks in Tokyo resemble those found in Florida or California, they are each unique with different offerings. Tokyo Disneyland, for example, resembles Magic Kingdom, but with some more typical Japanese influence.
2) Disneyland Park (California,USA)
This is not an exaggeration: the opening of Disneyland Park in California in 1955 changed the tourism industry and American pop culture forever. The first Disney theme park and the only one that Walt Disney oversaw during its construction, Disneyland is still popular with nostalgics and those looking for a rich piece of American history. It includes many opening day attractions that draw in tourists.
3) Epcot, (Florida, USA)
Epcot, located at Walt Disney World Resort in Florida, is a permanent, multi-country world fair, celebrating human progress, technology, and international cultures. The front half of the park consists of World Celebration, World Nature, and World Discovery, while the back half is made up of 11 country pavils around World Showcase Lagoon. Similar to all other Disney parks, Epcot offers family-friendly attractions and character meet and greets, but it's especially great for adult guests who love trying snacks, beer, wine, and cocktails from around the world in each country.
4) Europa-Park (Germany)
Germany's most popular theme park, Europa-Park, is just what it sounds like— a European-themed amusement park with more than 100 attractions and 18 themed areas, with 15 representing different countries and regions around Europe. There's some Disney inspiration sprinkled throughout the park's design and attractions.
Located in Rust, a city in western Germany with a population of 20,000, Europa-Park is one of Germany's most popular tourist attractions. It attracts more than 3 million visitors annually, with 500 million guests have visited since it opened its doors in 1975.
5) Tivoli Gardens (Copenhagen, Denmark)
A much-loved, traditional amusement park dating back more than 175 years, Tivoli Gardens in Copenhagen, Denmark, is a must-visit. Found in a variety of locations with its own train, it includes such things as rides, theatres, and restaurants, plus gardens with unique flora.
This park is mostly famous for the old, wooden roller coaster Rutschebanen, which opened in 1914. It is one of the world's oldest, still operating wooden roller coasters. Operators maintain the coaster's speed so that it does not take on too much momentum going down the hills.
6) Universal's Islands of Adventure (Florida, USA)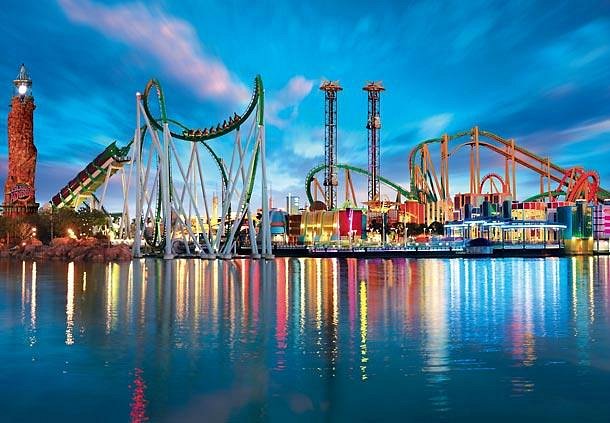 The second theme park at Universal Orlando in Florida, Universal's Islands of Adventure is for those looking for rides with something for everyone — from fun-loving Dr. Seuss to adventurous Harry Potter. Highlights include heart-pounding attractions like Jurassic World VelociCoaster, Hagrid's Magical Creatures Motorbike Adventure, and Harry Potter and the Forbidden Journey, plus the immersive The Wizarding World of Harry Potter — Hogsmeade.
7) Efteling (Kaatsheuvel, Netherlands)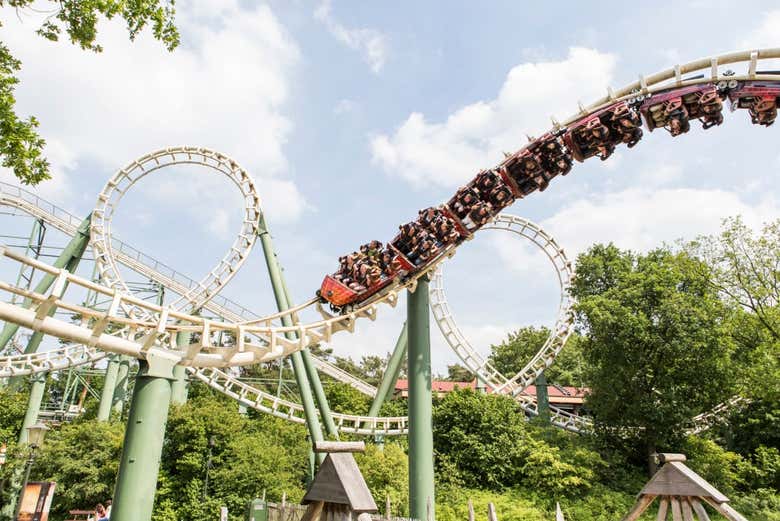 As one of the largest amusement parks in the Netherlands and one of the most-visited in Europe, Efteling boasts imaginative rides, garden-like spaces, and dozens of Dutch folklore- and fairytale-themed areas.
Opened in 1952, Efteling is home to more than 60 rides, roller coasters, and family attractions. Whether you love spinning rides or prefer slower, gentler experiences like nature walks and boat tours, there's something for everyone at Efteling.
8) Liseberg (Göteborg, Sweden)
There's a reason Liseberg is one of Europe's top amusement parks. Along with a host of other amazing rides and attractions, it boasts what's considered to be one of Europe's best roller coasters, Galaxi. The ride offers both thrill-seekers and those who prefer to keep their feet on the solid ground an amazing experience. The park, located in Göteborg, also has an indoor theme park called Bergakungen that's open year-round. Between indoor and outdoor, there are more than 50 different rides to choose from! If you're planning a visit to Europe in 2015 or 2016, make sure you pencil in some time at Liseberg. It'll definitely be worth your while!
9) PortAventura Park ( Catalonia, Spain )
For about an hour's drive from Barcelona, PortAventura Park awaits, where you'll find six different regions that vary from China to Polynesia to Mexico, from the Mediterranean to the Far West. And, there are plenty of attractions for the whole family.
PortAventura Park is located 85 km from Barcelona, in Catalonia, in Spain. It is located within the PortAventura World Resort. The park opened on 1 May 1995 under the management of the Tussauds Group which had a 40.01% share in the park, La Caixa (33.19%), Anheuser-Busch (19.9%), and FECSA (6.7%). It first opened to the general public on May 2, 1995.
10 ) Six Flags Magic Mountain (California, USA)
Those in search of the most thrilling rides should head to Six Flags Magic Mountain, which is just outside of Los Angeles and is currently home to the most roller coasters in the world (19).
19 roller coasters at Six Flags Magic Mountain rank as the world's most in a single amusement park. And it is ranked as the sixteenth most-visited amusement park in North America in 2017, with an estimated 3.3 million visitors.